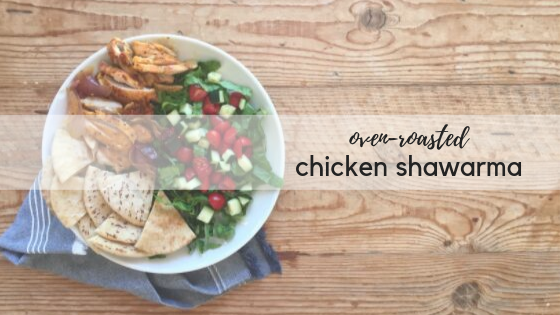 Chicken Shawarma is a family favorite…..it's super simple, full of flavor, easy to prep ahead of time, and tastes just as good as leftovers as it does fresh from the oven! Best part??? All my kids enjoy it, which is rare, but attests to how truly delicious it is.
Oven-Roasted Chicken Shawarma
serves 4-6 (super easy to double for leftovers, see notes for serving ideas)
Ingredients:
2 lbs boneless, skinless chicken thighs
1 red onion, cut in to chunks
1/3 cup olive oil
6 cloves garlic, minced
4 tbsp lemon juice (about 2 lemons)
2 tsp ground black pepper
2 tsp ground cumin
2 tsp paprika
1 tsp salt
1/2 tsp turmeric
1/4 tsp red pepper flakes
Directions:
Whisk together olive oil, lemon juice, pepper, cumin, paprika, salt, turmeric and red pepper flakes.
Place chicken thighs and onions in large bowl or zip-top bag, add marinade and toss to coat well.
Store in refrigerator, covered, at least 30 minutes and up to 12 hours.
When ready to cook, heat oven to 425 degrees. Add a thin layer of olive oil/cooking spray to a large baking sheet.
Remove chicken and onions from marinade and place on the baking sheet in a single layer. Discard the marinade.
Roast 30-40 minutes, until chicken is cooked through and edges are beginning to brown.
Optional: for extra crispy chicken, once chicken is cooked through, turn broiler to high setting, and broil 5-7 minutes, watching closely.
Remove from oven and let rest 5 minutes, then slice into small pieces, mixing together the chicken and onion.
Serve with:
diced cucumbers, tomatoes, warm pita or naan, a drizzle of tzatziki sauce (homemade or store-bought)
leftovers are great served over a crunchy salad….thinly sliced cabbage, Brussels sprouts, and romaine, drizzled with tzatziki or tahini dressing.