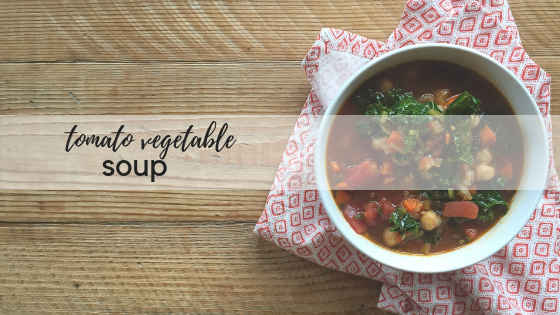 There's nothing better on a chilly winter evening than a steaming bowl of tomato soup along side a grilled cheese sandwich….yum!  This tomato soup is a twist on the classic:  it's less creamy, has added protein in the form of chickpeas, and plenty of vegetables, but don't worry!  It's still perfect for dunking your grilled cheese sandwich….even my kids like this soup and use their grilled cheese to scoop up the required vegetables.  Be sure to check out the notes at the end for variations, and don't be afraid to customize it to your tastes!
Tomato Vegetable Soup:
Ingredients:
2 tbsp olive oil
1 medium onion, chopped
1 stalk celery, finely chopped
3-4 carrots, finely chopped or grated
2 garlic cloves, minced
3 tbsp tomato paste
1-14 oz can diced tomatoes with liquid
4-6 cups chicken or vegetable broth (plus extra to thin if necessary)
1 tsp dried oregano
1 can chickpeas (garbanzo beans), drained and rinsed (optional)
1 bunch Swiss chard, leaves removed from stems and chopped (substitute:  spinach or kale)
Salt and pepper to taste
Pinch of red pepper flakes, to taste
Directions:
Heat olive oil in dutch oven or other large pot over medium heat. Add onion, celery, and carrot and sauté until softened, about 8-10 minutes. Add garlic and sauté 1 minute, then add tomato paste, diced tomatoes (with liquid),  4 cups of chicken or vegetable broth and oregano. Stir well and bring to a boil.
Add chickpeas (if using).
Reduce heat and simmer about 10 minutes.
If necessary, add more broth to thin to desired consistency.
Add Swiss chard and simmer until wilted, 1-2 minutes. Salt, pepper and red pepper flakes to taste.
Serve with grilled cheese sandwiches or crusty sourdough bread.
Notes:
Brown and drain 1 pound of ground beef and use in place of chickpeas.
Make ahead on the weekend:  sauté the vegetables and let cool completely, then mix all other ingredients (except chard) in an air-tight storage container and store in the refrigerator or freezer.  Add the chard, then reheat in large pot on the stove for 20-30 minutes, or in the slow cooker 4-6 hours.
Add an extra cup of broth to the pot then add 1 cup pasta along with the chickpeas.
Add grated zucchini and/or sweet potato for extra veggies.
To make in the slow cooker, sauté the vegetables in a large skillet. Transfer veggies to the slow cooker and add remaining ingredients. Cook on low 4-6 hours.