Roasted Butternut Squash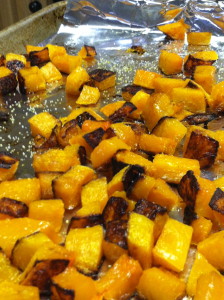 Butternut squash is another vegetable that I had never tried until recently, and again, I'm making up for lost time by making it often, especially in the fall.  This yummy squash is like candy…..so sweet and yummy, and I find it incredibly easy to polish off a whole pan in one sitting.  My kids know if they want some squash they had better grab it before I devour it.
Ingredients:
Butternut squash (enough for your family….I usually make 2 large so I have leftovers)
Olive oil
Salt
Instructions:
Preheat oven to 400 degrees
Peel, seed and dice butternut squash (here's a good tutorial)
Toss diced squash in large bowl with 1-2 tbs olive oil until lightly coated
Brush olive oil over a baking sheet or over the bottom of a large baking dish
Spread squash over baking sheet or baking dish, making sure squash is in one layer
Sprinkle with salt to taste
Roast 25-30 minutes, stirring carefully once or twice during cooking time
I like my squash to get pretty brown on at least one side (see the picture above), so I let it roast 10-15 minutes to start, then stir gently a few times during the remaining roasting time.  Test it often the last 10 minutes or so…..you want it soft, but not mushy.
This is an easy veggie to feed your kids….the squash has a nice, mild flavor, and roasting it really brings out the sweet flavor. Even my pickiest veggie eater likes roasted butternut squash, so give it a try!
---
---