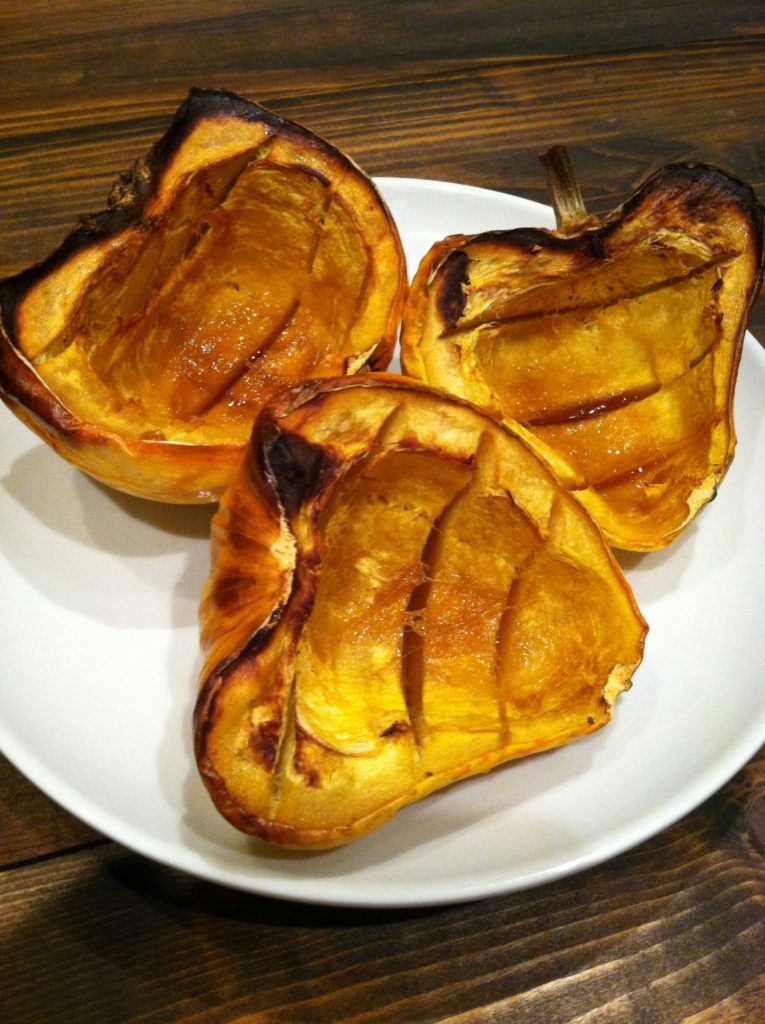 I found a few acorn squash in my produce bin from Urban Acres last week, and since I've only had them one time many, many years ago (and didn't care for them at all), I let them sit on my counter, collecting dust.
So tonight I decided to give them another try. I found this recipe, which sounded pretty good, until I got to the maple syrup, which is not one of my favorite ingredients. Strange, I know, but I've never much cared for syrup.
But I didn't let that deter me, and I gave it a shot. Here's how I made it:
Ingredients:
2 medium acorn squash
2 tablespoons butter
2 tablespoons brown sugar
Instructions:
Preheat oven to 400 degrees
Carefully cut both squash in half, from top to bottom
Scrape out seeds and discard (or save them to roast)
Score insides of each half with a sharp knife
Rub butter over surface of each squash, then sprinkle 1/2 tablespoon of brown sugar into each half
Place halves in 9×13 baking dish cut sides up, and fill dish with 1/4-1/2 inch of water
Roast about 1 hour,or until flesh is soft and edges are browned
Let cool a few minutes before serving
I scraped out the flesh with a spoon, making sure to get all the caramely brown sugar sauce from the bottom of each squash and oh my goodness…..it was so yummy. If you like maple syrup you can drizzle a bit over each squash before serving.
Butternut squash is still my favorite, but this is a good, less-sweet alternative. My kids weren't around to try it, but I think they would like it, especially with the syrup.