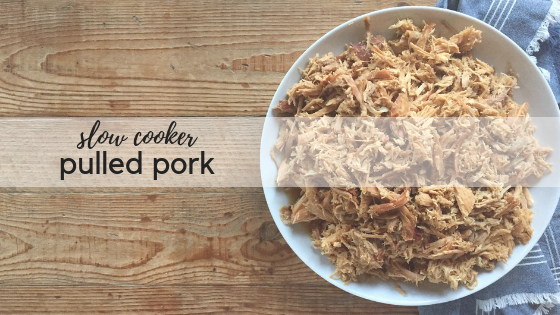 Pulled Pork is one of the easiest and most versatile things you can make and have on-hand in your kitchen.  Buy a 3 to 4 pound pork roast, cook all day in your slow cooker, then freeze it in meal-sized portions to use for later meals.  Check out this post for three easy meals you can make with this basic pulled pork recipe.
(my method is based on Nom Nom Paleo's Kalua Pig recipe, found here for the slow cooker, and here for a pressure cooker…you can't go wrong with any of her recipes!)
Slow Cooker Pulled Pork:
Ingredients:
3 to 4 pound pork sirloin roast (I've used other cuts and they also work well)
4-5 slices bacon
Salt
Directions:
1.  Line the bottom of the slow cooker with the bacon.
2.  Using 1/2 tsp salt per pound of roast, rub salt all over the roast.
3.  Place roast in slow cooker and set on low for 8-10 hours.
4.  When fork-tender, remove roast and shred with 2 forks.
5.  Split into meal-size portions and freeze in freezer-safe container (like these).