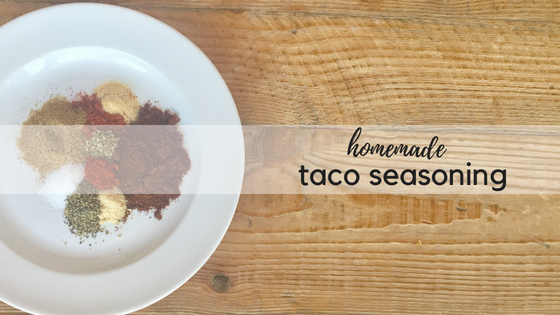 This is a great alternative to the pre-packaged taco seasoning packets.  You control the spicy-ness and don't have to worry about any mystery ingredients.  The recipe below is for one meal, but I always make a 4x recipe and store it in an airtight jar….then it's ready to go when I need it rather than making a new batch each time.
1 tbsp chili powder
1/4 tsp garlic powder
1/4 tsp onion powder
1/4 tsp cayenne pepper (more or less to taste)
1/4 tsp dried oregano
1/2 tsp paprika
1 1/2 tsp ground cumin
1/2 tsp salt
1 tsp pepper
Mix all ingredients together in small bowl.  For tacos, brown ground beef and drain, then add spice mix to beef along with 1/4 to 1/2 cup water and simmer 5-10 minutes.