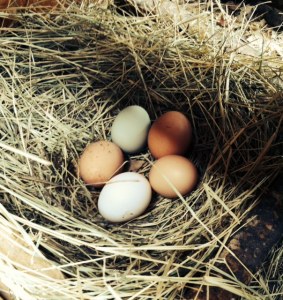 So this picture has nothing to do with my weekly dinner menu, but I have to tell you how much I love having chickens who give me fresh eggs everyday.  I need to have my photographer-daughter take some better pictures of our eggs so you can truly appreciate how pretty they are, pale brown, light blue/green, darker brown with freckles, and creamy white.
And it amazes me that I found these five exactly how they're pictured…..each hen took her turn in this nesting box, somehow managing to lay her own egg without crushing the ones there before her.
The hens squawk quite a bit throughout the day…..I wonder if each of them is reminding the next one to be careful?  Or cheering her on?   Urging her to hurry up so the next hen in line can have her turn?  We have three nesting boxes, but for some reason they all lay their eggs in this particular box and we cannot figure out why.  Silly chickens.
In any case, here's the dinner menu for this week:
Monday:  Cornmeal Crusted Catfish with Homemade Tartar Sauce (brand new recipe for our house….fingers crossed the kids like it!!!!)
Tuesday:  Sloppy Joes
Wednesday:  BBQ Pork
Thursday:  Ribs (not sure about recipe yet…..any recommendations?)
Friday:  Grilled chicken and veggies