Every year, the Nester hosts a writing challenge of sorts, the goal being to write one blog post everyday, for 31 days, about a single topic.  I've followed this challenge the past few years, intrigued by the variety of topics, finding a few new blogs each year to follow, impressed by the consistency of these writers during the month of October.
I've decided to jump into the challenge this year, and have chosen my topic: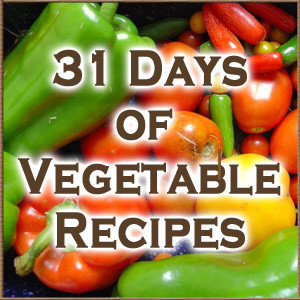 Exciting, isn't it?  You just can't wait to read every post, right?  You've been hoping and praying that someone would post a new veggie recipe everyday for days on end and now those prayers have been answered.
I know, I know.  31 Days of Vegetable Recipes is not super fun and exciting, but I think we can pretty much all agree that it is at least useful, isn't it?  I know when I first started cooking for my family, I was at a loss for vegetable recipes.  All my meals were accompanied by canned or frozen vegetables, heated up in the microwave and tossed onto the side of the plate without a second thought.  They didn't look good, nor did they taste good, and of course when I started serving them to my kids they were not met with much approval.
But then I discovered a simple roasted vegetable recipe, and things turned around.  I began experimenting with different ways to cook the same old broccoli (steamed? roasted? sautéed?). Then I joined a produce co-op, and new and interesting vegetables started finding their way onto my table.  I had no choice to be get resourceful (and brave!) and figure out how to cook them.
Things have gotten better at my kitchen table…….I'm not saying my kids now beg and plead for more servings of vegetables, but they don't whine and complain near as much as they used to.  My husband and I also eat a lot more vegetables than we did in the canned/frozen veggie era.  Fresh, colorful, and flavorful vegetables look better, smell better and taste better…..and it doesn't have to add much time to your already busy schedule.
So, for 31 days I'll be posting vegetable recipes, one per day.  Many will be familiar, easy and very simple.  Some will include a veggie you may have never heard of (tatsoi, anyone?).  A few might be just a simple twist on an old favorite.
None will require hours of hands-on prep time, and none will require specialty ingredients that you will never use again.
I'll provide candid reviews from my kids, as well as some helpful tips that have served me well as I've introduced a wide variety of new vegetables over the past few years.
I've already made a list of recipes I'll be sharing, but am definitely open to ideas……what vegetables are you wanting to try, but have no idea how to cook?  Are you having trouble getting your kids on-board with vegetables?  Do you need some ideas on how to sell them on the idea of something green (or orange, or red?) on their plates?
I can't promise to make reading about vegetable recipes fun and exciting, but I can promise to share 31 healthy, simple and yummy recipes throughout the month of October.  Surely one of them will make it into regular rotation at your house!