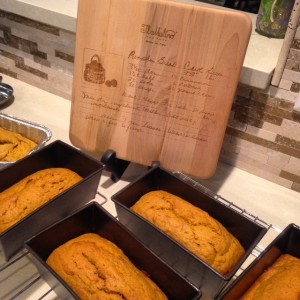 Mom's Pumpkin Bread (makes 7 mini-loaves)
Ingredients:
3  1/3 cups flour

(unbleached, all-purpose)

1  1/2 tsp salt
2 tsp baking soda
3 cups sugar

(I use half this amount…..I promise, it's still yummy!)

1 tsp ground cinnamon
1 tsp ground nutmeg
1/2 tsp ground cloves
1 cup oil

(melted butter)

4 eggs
2/3 cup water
2 cups canned pumpkin

(one 15oz can)
Instructions:
Pre-heat oven to 350 degrees.
 In large bowl, mix together dry ingredients.
Add wet ingredients to dry ingredients and mix well.
Pour batter into 7 greased mini-loaf pans. (about 5  1/2″ x 3  1/4″ x 2″)
Bake one hour, or until toothpick inserted in center of loaf comes out clean.
Cool on rack, then wrap tightly in plastic wrap.  If freezing, also wrap tightly in foil.
Notes:
The red text in the ingredient list are my changes/preferences.  I promise, you will not notice a difference if you use less sugar!  Also, I've tried it with whole wheat flour or a mix of flours and trust me, you want to use all white flour.  Since I only have a set of four mini-loaf pans, I use disposable foil pans (found at your local grocery store in sets of 5-10) for the remaining three loaves.