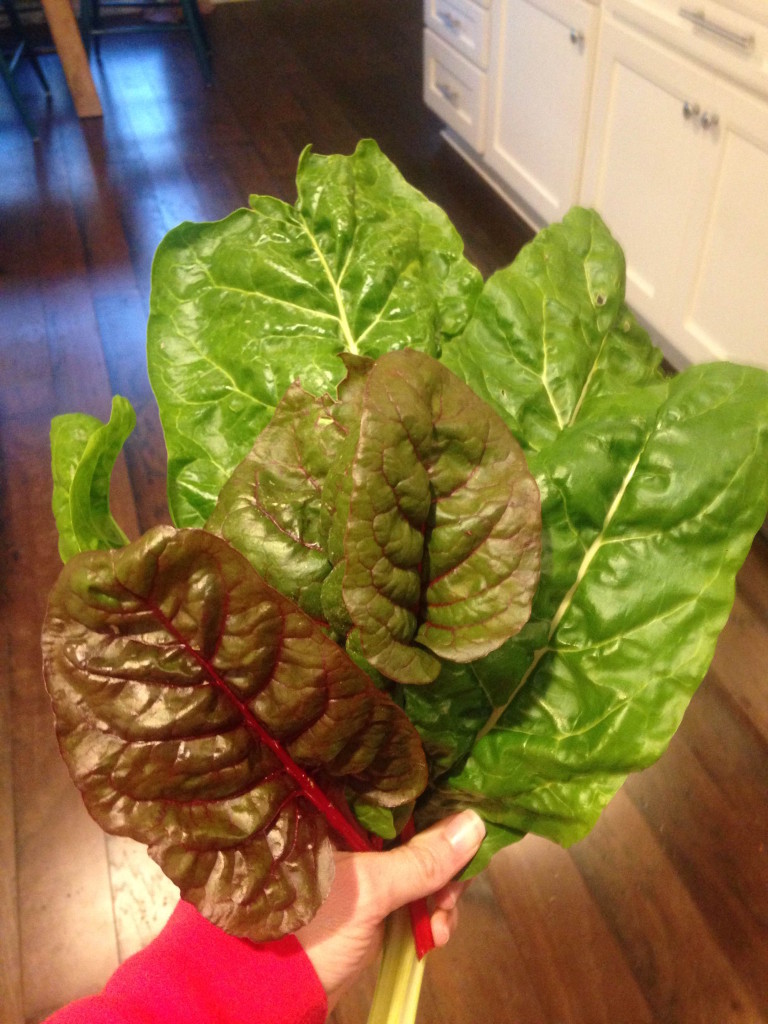 I have chard growing like gangbusters in my garden right now, and have been offering it up to unsuspecting friends every few days. The one response I hear most is: "What do I do with chard?"
We've all heard of spinach, and most of us have heard of kale and its many wonders (kale chips, anyone?), but few of us have heard of chard. Sure, we may have seen it in the grocery store, maybe even thought those red stems were rhubarb. But no, it's simply another member of the leafy green family, with a taste and texture more similar to spinach than to kale. The stems may be white, yellow or red, but the flavors are all the same. You may also see it referred to as Swiss or Rainbow chard. Again, no difference in flavors, just different names and/or varieties.
In my area (north Texas), it's generally thought of as a winter green, but my husband plants seeds in our garden almost year-round. A hard freeze will knock it out, but ours still did really well this winter, when we had only a few days of freezing temperatures. Chard will require diligent watering in the summer, like most vegetables do.
Ok, let's move on to what to actually do with chard.

Replace Spinach in Most Recipes
I've had great success using chard in place of spinach in many recipes…..in fact, I have yet to find a recipe where it doesn't work. Remove the leaves from the stems, chop leaves into small pieces and follow the recipe.
Stuffed Peppers with Chili Verde Sauce (I use green salsa in place of the sauce)

Add Chard to Soups
Chard is an easy addition to many soups. Remove the leaves from the steps, chop into small pieces or ribbons, and add the last 10-15 minutes of cooking time, or until slightly wilted.
Rustic Vegetable Chick-pea Soup (one of my family's favorites, served with grilled cheese)
Darn Good Chili (chop into small, bite-size pieces to better incorporate into the soup)

Sautéed for a Side Dish
Sautéing chard and other greens is a quick and easy side dish. Just make more than you think you need……it wilts down to a much smaller size (as you can see here), so fill up that pan!
Chard and Chard Stems with Sautéed Shiitakes (delicious with and without the mushrooms)
Sautéed Swiss Chard and Bacon (because everything is better with bacon!)

New-to-Me Recipes to Try
You can find more info about selecting and storing chard here, along with more recipes.
Now go buy some chard…..or ask me for some next time you see me!