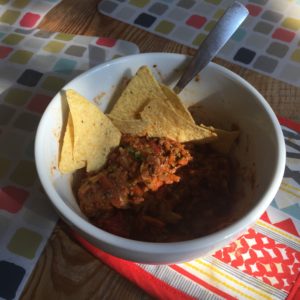 Darn Good Chili is my go-to when it's cold and gray outside.  What's better than a warm bowl of chili topped with a few tortilla chips and a dollop of guacamole?
The best part of this recipe is how flexible it is.  Add or subtract types and/or amounts of vegetables.  Use ground venison or bison instead of ground beef.  I've even eaten it for breakfast…..not your typical morning fare, but it's a great alternative to traditional breakfast food.
Follow this perfectly, or change it up however you want.  I don't think I've ever made it the same way twice, and it's always been good.
Darn Good Chili
Ingredients:
2 tbsp olive oil, butter, or coconut oil
1/2 to 1 cup diced onion
2-3 cups chopped, grated or diced vegetables.  I usually use a combination of carrots, sweet potatoes, yellow squash and/or zucchini, depending on what I have on-hand.
1-2 pounds ground beef (or bison, turkey, a mixture, whatever you like)
1 tbsp chili powder
1 tbsp paprika
1 tsp red pepper flakes
2 tsp cumin
1 tsp salt
2 tsp ground black pepper
1-14oz can diced tomatoes
1-14oz can tomato sauce
1 cup beef broth (I've used water in a pinch….worked out fine)
1 tbsp apple cider vinegar (I forgot this once, and while it was still really good, I prefer the flavor it adds)
2 bell peppers, diced (I almost never add these, unless I've made a special trip to the store to buy them.  If you have them, use them)
Instructions:
Heat fat of choice in large dutch oven over medium heat
Add ground beef and crumble, cooking until meat is cooked through
Add all the vegetables, except the peppers, cooking until softened, about 5 minutes
Add all the seasonings and mix well
Add remaining ingredients (except peppers) and mix well
Bring to a boil, then reduce heat and simmer partly covered about 45 minutes (longer is always better, but you won't sacrifice all the flavor if it simmers less than 45 minutes)
Check and stir every so often, adding more water or beef broth if it gets too thick. It's not meant to be soup-y, however, you don't want it to completely dry out.
Remove lid, add peppers, and simmer another 15 minutes or so
Serve and enjoy!
I always serve chili with grated cheese and Fritos.  I really like sliced avocado with this recipe, as well as a dollop of sour cream.
My version is pretty mild on the spicy-scale, so add more chili powder or red pepper flakes, or serve with a few splashes of your favorite hot sauce if you prefer more heat.