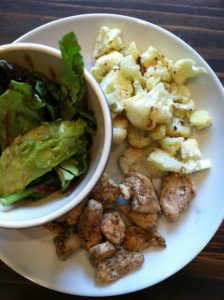 This recipe is based on a recipe for steak bites, another family favorite.  It is easy, quick, and requires few ingredients.
Chicken Bites:
boneless, skinless chicken breasts or thighs-enough to feed your family (I use 1-2 lbs)
salt
pepper
garlic powder
olive oil, coconut oil, butter or ghee
Cut up your chicken in bite sized pieces.  Season to taste with the salt, pepper, and garlic powder.  My family likes a lot of flavor on these, so I usually use quite a bit of my favorite seasoning on them.
Heat the oil in a large skillet over medium-high heat.
Add the chicken to the skillet, making sure not to crowd the pan.  A crowded pan will steam the chicken, rather than brown it.  I usually do at least two batches, keeping the first batch warm on a foil-covered plate while the second batch cooks.
Cook 3-5 minutes or until browned, then toss to brown the other side.  Cook another 3-5 minutes or until cooked through.
Remove from skillet and serve with roasted veggies, add to a stir fry, toss with a salad or along side spaghetti squash and tomato sauce.
Refrigerates well to have on hand for lunches through the week.