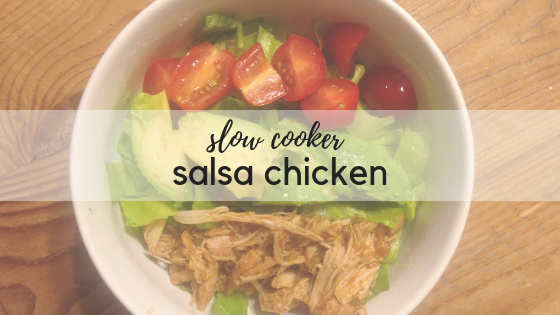 (Chicken Taco Salad Bowl, my fave)
We love tacos at our house and they show up almost weekly on our menu.  I've shared my steak taco recipe before…..below is its close cousin, chicken tacos.  Yum!
Ingredients:
Boneless, skinless chicken breast (4-6, or enough to feed your family and have left-overs), or about 2 pounds boneless, skinless chicken thighs
Taco seasoning (this recipe is perfect)
****edited:  lately I've been skipping the taco seasoning and just using the salsa….a little less flavor, but just as good!
1-16 ounce jar of salsa (adjust the amount of salsa according to the amount of chicken.  You don't want the chicken swimming in the salsa, you want the salsa to just barely cover the chicken)
Directions:
Pour jar of salsa into the bottom of your slow cooker.  Add 2-3 tablespoons of taco seasoning and stir well.  Add chicken breasts and toss to coat.
Cook on low 8-10 hours, or on high 4-6 hours.  Shred chicken about 30 minutes before serving and let simmer in juice.
Serve in your favorite taco shell, tortilla, over chips, with cauliflower spanish rice or in a lettuce wrap.  Enjoy!