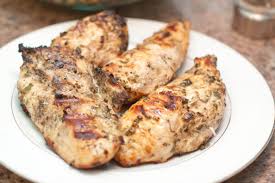 Grilled chicken is a family fave at our house, and this is currently the most requested version.  It's super easy and super fast….a great weeknight dinner when you don't have a lot of time to cook.  Cook up a lot on the weekend to have on hand through-out the week for lunches.  It's great chopped up for chicken salad, or sliced along side a big green salad, and drizzled with balsamic dressing.  Yum!
Chicken breasts (enough for your family…and for left-overs!)
Garlic powder
Sea salt
Black pepper
Sprinkle both sides of the chicken breasts generously.  And by generously I mean you shouldn't be able to see much of the chicken…..you want a nice layer of seasoning.   Adjust according to your taste….I usually use less pepper for my kids.
Grill until cooked through.  Alternatively, you could bake in a greased baking dish at 350 degrees for 35-45 minutes, or until cooked through.