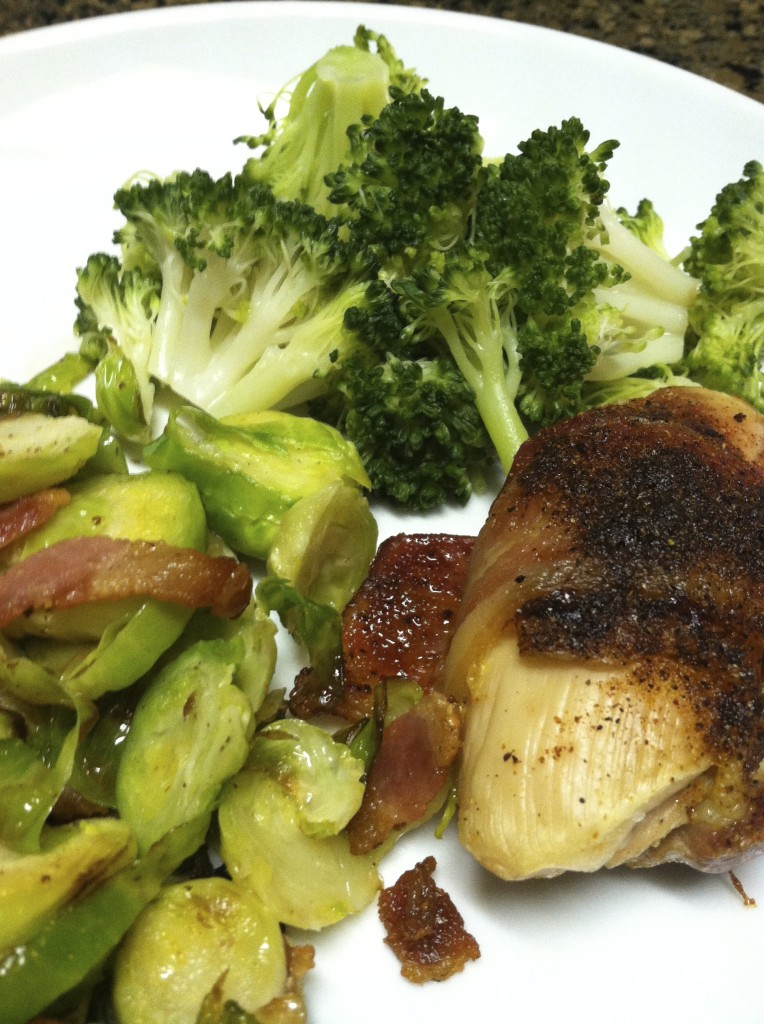 I found this recipe the other day and oh my goodness, it was yummy!  Cass and I loved it, kids liked it, even the neighbor kids that were over for dinner liked it.   I made just a few adjustments, of course, since I never make a recipe as-is.   Below is my version…..please, try it very soon!
Smoky Seasoning:
1 tbsp chipotle powder
1 tbsp paprika (smoked if you have it)
1 tbsp onion powder
1 tbsp salt
1 tsp ground pepper
Mix all ingredients together and store in an air-tight container.
Bacon-wrapped Chicken Thighs:
6 chicken thighs, boneless and skinless
6-8 pieces of bacon
2 tsp smoky seasoning mix
Sprinkle some seasoning on the chicken thighs, wrap each thigh in bacon, then sprinkle again.
Line a baking sheet with foil, spray/brush with olive oil, then place each thigh on the sheet.
Bake at 375 degrees for about 40 minutes.
***Also pictured:  sautéed Brussels sprouts with bacon, steamed broccoli
***I had quite a bit of the seasoning left over….I plan to use it as a dry rub on burgers soon, or maybe on some grilled chicken.  Any other ideas?