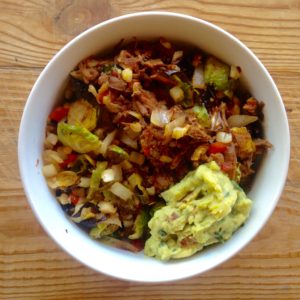 Steak tacos are a family favorite at our house, whether I'm cooking for just our family or for a crowd.  Flank steak is a readily available and inexpensive cut of meat.  When cooked all day in the slow-cooker, it makes for a super-easy and yummy dinner.   Substitute skirt steak if you can't find flank steak.
2 flank steaks (about 1lb each)
Taco seasoning (double this recipe)
1/2 onion, chopped
2 small cans diced green chilis
2 tbsp vinegar
Coat inside of slow-cooker with cooking spray.  Rub taco seasoning over both sides of each flank steak then place in slow cooker.  Toss in the onions and green chilis, then the vinegar.  Cover and cook 4-6 hours on high, or 8-10 hours on low.  Shred meat when close to end of cooking time and simmer in juices.
So many ways to serve this:  burrito bowls (pictured above), crispy tacos, soft tacos, fajita-style, burritos, over nachos. Especially good with home-made pico de gallo and guacamole.