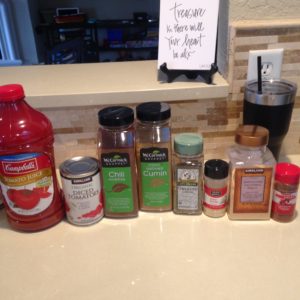 This chili makes a regular appearance each fall and winter at my house, both for dinner and in my kids' lunches.  It's easy, can sit in the slow-cooker all day, and can be changed up to suit your tastes. Plus, it's served with Fritos and grated cheese…..you can't go wrong with that!
1-46oz can/jar of tomato juice (not V8, just plain juice)
1 or 1 1/2 lbs ground beef, browned
1-14.5oz can diced tomatoes (undrained)
2 tbsp chili powder
2 tsp ground cumin
1 tsp dried oregano
1 tsp onion powder
1 tsp garlic powder
dash of cayenne pepper or hot sauce (more or less to taste)
Place all ingredients in a slow cooker and cook on low all day.
Alternatively, place all ingredients in a large pot on the stove, bring to a boil then lower heat and simmer 20-30 minutes.
Serve with grated cheese (pepper jack, cheddar, colby jack all work well) and top with Fritos.
I usually make up a batch of cauliflower rice to add to the bowl when I serve it.   I also like to add 1/2 an onion to my ground beef while browning.
This freezes well so make a double batch and stash some in the freezer for another day.
Enjoy!