Well, the last two weeks were a little rough around here.  Every member of my family, save one, went down with either a flu-like respiratory illness or a stomach bug.  It was good times.
Knock on wood, we are all healthy now, ready to get back to our normal routine.  But then we woke up to the scene in this picture.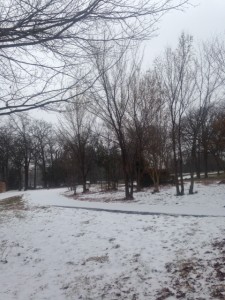 Not a whole lot of snow, but it's enough to cancel school, especially since there's some ice mixed in with it.  I'm certain anyone living in the northeast is laughing at our school closure for such a small amount of "wintry mix" as we like to call it, but this is north Texas….we do not do ice and/or snow well.
I've spent the quiet morning making our menu plan for the week.  Here's hoping we all stay well!
Monday:  Pot Roast (from this book), roasted cauliflower
Tuesday:  Sautéed chicken (like this, but with chicken and white wine in stead of pork and balsamic) and bok choy
Wednesday:  Big Salad (specifically requested by my daughter), with this chicken added, and a version of this dressing
Thursday:  Chili Verde, cauliflower rice
Friday:  Leftovers
Saturday:  Beef and Butternut Squash Stew, shredded brussels sprouts, carrots
Sunday:  Potluck with friends
Linking up with a recipe round-up here.