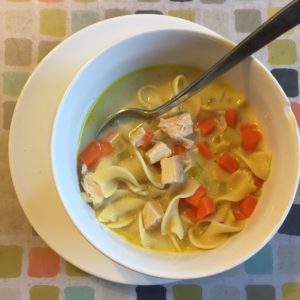 You can't beat this soup on a chilly evening.  It's my very favorite…..partly because it's really, really good, and partly because it's a recipe from a sweet friend.  I smile every time I make it…and usually send her a quick text to let her know I'm thinking about her.
5-6 boneless chicken breasts, cooked and chopped into bite-sized pieces
4 cans chicken broth (I use 2-32oz boxes)
2 celery stalks, chopped
1/2 medium onion, chopped
2 cups carrots, grated or finely chopped
1/4 cup butter
2 tbs flour
1/2 tsp salt
1/4 tsp pepper
1/2 tsp garlic powder
1/2 cup heavy cream
1 1/2 cups egg noodles or instant rice
Bring chicken broth to a boil in large pot, reduce heat and simmer.  Add cooked chicken.
Melt butter over medium heat in large skillet.  Cook carrots, celery and onion until tender.  Add flour, salt, pepper and garlic powder.  Cook a few more minutes.  Add to chicken in pot.
Add noodles or rice and cook until tender, stirring occasionally.  Stir in cream and serve hot.
Notes:  For the chicken I usually boil the breasts in water or chicken broth for 30-ish minutes or until cooked through. I've also used meat from a whole chicken I've roasted or cooked in the slow-cooker.  If you are grain-free simply omit the pasta and/or rice and increase the chicken or veggies.   Oh…and be sure to add the heavy cream at the end….it totally makes the soup. Milk and half-n-half are poor substitutes….go ahead and use the cream. You'll be glad you did!