The last few menus I posted were created by my oldest kids (here and here), but I completely forgot to post the menu created by my youngest…..oops!  Here's a pic of her menu: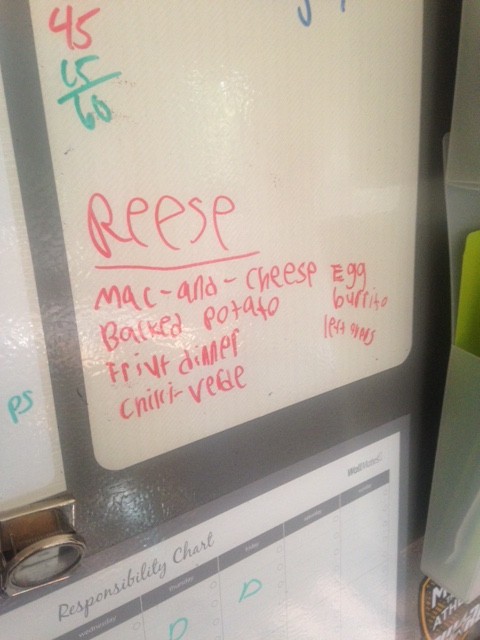 Her choices were mac-and-cheese, baked potato, fruit dinner (my husband's specialty and the kids' fave….he makes the best faces out of the fruit), chili verde, egg burritos and leftovers.
A few notes about her menu:  I made a super easy stove-top macaroni (home-made, not a boxed variety), very similar to the one in this book.  I added ground beef with taco seasoning to the baked potatoes, and we always have some kind of protein (usually sliced deli turkey or ham) with the fruit dinners.
My husband was out of town the week following her menu, so dinners were super easy and required minimal prep on my part:  pot roast, chicken tacos, and leftovers from the weekend.
So, back to a more normal routine this week:
Monday:  Out with family
Tuesday:  Cumin Pork Tenderloin with sweet potatoes, sautéed corn (going to substitute some oregano and a dash of chili powder for the thyme)
Wednesday:  Slow-cooker Balsamic Chicken with swiss chard (from this book), roasted cauliflower
Thursday:  Stuffed Peppers (a version of this recipe)
Friday:  something on the grill