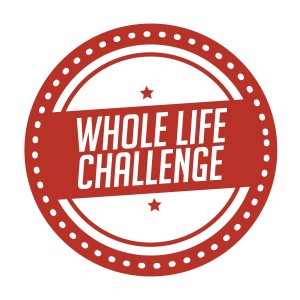 Because I am participating in the Whole Life Challenge through November 11, all of my menus will be compliant with their Lifestyle nutrition level.  Any ingredients in the recipes I link to that are not compliant with be omitted or substituted.
Breakfast Plans:  Scrambled eggs and fruit most days, maybe some leftover dinner one or two days (breakfast does not have to be breakfast food….eat whatever sounds good!)
Lunch Plans:  I made some chili verde over the weekend, so that will be lunch for a few days, added to salads, wrapped in romaine, or over cauliflower crumbles/rice.  I'll also make a double batch of Monday night's wraps and Wednesday night's chili…..planned left-overs make the easiest lunches.  
Dinner Plans:
Monday:  Thai Lettuce Wraps (lots of extra veggies added to filling….grated carrots, sweet potatoes, maybe spinach)
Tuesday:  Bacon-wrapped Chicken, Steamed Broccoli, Carrots
Wednesday:  Darn Good Chili and Corn Bread
Thursday:  Grilled Chicken, Sauteed Greens (similar to this), Roasted Veggies
Friday:  Breakfast for Dinner (eggs, bacon, hash browns, fruit)